space
The best time to start planning was yesterday. The second best time is today. If you're not planning now, you're already behind.
Why Get a Valuation?
You wouldn't leave money on the table anywhere else… so why would you do it with your agency? Basing your agency value on industry folklore can be costly. Simply believing that your agency is worth some multiple of revenue (2x) could be an expensive mistake. So many factors go into a true calculation of agency value. Don't guess at your agency's value. Get a professional analysis and complete a valuation.
Our team of trusted agency advisors is eager to help you achieve your business and valuation goals with your agency. As you plan for the future of your agency, we want to be part of helping you make informed business decisions based on the independent fair market value of your agency.
Desired Growth
You have growth ideas but no plan. Start your planning by understanding where you are. Gain an analysis and insights on how to optimize your agency value, growth opportunities, and risk factors.
Agency Ownership Transition
For agencies that plan to transition ownership, an annual valuation and plan will ensure that you are on track to transfer your business for the value and manner which best suits your clients, legacy, family, and team.
Fair Market Value
Calculating the fair market value of your agency (EBITDA multiple) instead of expressing the value of your agency (revenue multiple), will prepare you to maximize your agency's value regardless of what you decide to do with your agency.
Planning for your next chapter
Understanding what your agency is worth will strengthen your position in your negotiations with prospective partners and buyers. So much goes into what your agency is worth. Don't sell yourself short on your life's work.
What you receive
Once we have the information we need, we can compile your valuation report.
It will include:
Fair Market Indication of Value Report
Unique Agency Profile and Risk Factors
Factors Affecting Ownership Transition
Let's Hear it From your Peers
Don't just take it from us, hear from your peers on the importance of having a valuation and the value it has created for their agency and operations.
Valuation Testimonials
"We are so appreciative of the IA Valuations team. We'd been doing our valuations internally, and they helped us better understand the value of our agency. The IA Valuations team provided us with great insights to keep growing in the ever-changing marketplace. We plan to continue to engage with the team to assist with our internal perpetuation moving forward since we were so impressed with their valuation service. We would recommend this service to all agencies looking to gain insights on their value, perpetuation, and prosperity of their agency."
Rudy Keister
Ruese Insurance Agency
"IA Valuations has continuously provided Frost Insurance Agency with opportunities to expand and grow our business. This was our 5th year in a row getting a valuation, and I can't say enough good things about their service. We have built a strong professional relationship with them, and our agency is better off because of their perpetuation planning services."
Rachel Moll
Frost Insurance Agency
"When we started working with Craig, Jeff, and the IA Valuations team 5 years ago, internal perpetuation seemed like a daunting task. However, over the years we have worked with them to understand our agency value, address our risk factors, implement a growth strategy, and execute our internal perpetuation. The annual valuation has been the guiding document for our business planning, partner development, and perpetuation planning. Whatever your reason may be, we highly recommend every agency get a valuation.
Cameron Caryer
Frost Insurance Agency
"We received a very informative report. The Fair Market Valuation is a great tool for owners and managers. We received much more than a just a number with the valuation, which we are grateful for."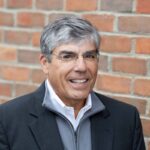 Ralph Guarasci
Insurance Agencies of Ohio
"IA Valuations provided us with detailed insights, a great understanding of my agency and how it operates, detailed explanation of the results and what went into the calculation, and a meaningful discussion of the risks of waiting too long to transition the agency. It was time and money well spent."
Perk Reichley, CIC
Reichley Insurance Agency
"OIA and IA Valuations made it easy to obtain an agency valuation and identify areas we could improve upon to increase our value. The expertise and explanation they provided us was invaluable to our 10-year business plan."
Joe and John Dumbaugh
Dumbaugh Insurance Agency
"IA Valuations has been an instrumental partner that helped facilitate our growth and forced us to think strategically about our operations. Specifically, Craig Niess facilitated agency acquisitions for us by leveraging his expert valuation & consulting services. Literally cannot recommend this organization and the people, more highly!"
Matt Simon
Agency Owner, CoverLink
"Craig Niess provided the expertise we needed for an updated agency valuation and buy-sell agreement. He helped address our agency's specific needs. We would recommend using Craig Niess and the team for these services. He knows and understands our business. IA Valuations provides very good services at a great value for agents!"
John Flickinger
Agency Owner, K&J Flickinger Insurance
"The Independent Agency system is constantly evolving and we are very lucky to have IA Valuations to provide guidance to our members. I'd like to specifically recognize their valuation and consulting services for their time and efforts to assist Independent Agents in successfully growing their agency operations in Ohio and beyond."
Mike Humphry
Iroquois Group
Agency Link Testimonials
"I am so grateful for the expertise, knowledge, and trust Jeff and the Agency Link team provided in this process. I am an insurance advisor that manages risk for a living, this process was completely foreign to me so I knew having an advisor would be paramount to making it successful. Engaging Jeff and Agency Link was the absolute right decision for me. They provided clarity and confidence to get me through the process. They took the time to truly understand my needs and my priorities with the process. They got me several offers, helped me consider them in an objective way, and reach the best decision for my clients, agency, staff, family, and me."
Mark Allen
Webster Agency, Peru, IN
"Agency Link was exactly what we were looking for to guide us through the process of selling our agency. The advice and trust Jeff and the Agency Link team provided were so helpful. We will miss our clients and the agency business; however, we are confident it is in good hands because through the process we found a buyer that shares our values in serving our clients and community. We knew we were only going to sell our agency once, so we had to get it right. The Agency Link team calmed our nerves during times of stress and assured us that it would all work out. It did work out, with a lot less uncertainty and stress thanks to Agency Link."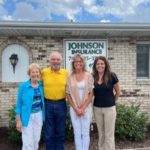 Bill and Gloria Robinson
Johnson Agency, Washington Courthouse, OH
"It has been a pleasure working with you and your team at OIA and IA Valuations. Going into this whole process – we had no idea where to start or how to go about the entire process. You helped guide us and gave us valuable information along the way and for that, we truly say, "Thank You." Without your advice and help, we would not have gotten through this. Agency Link was an incredibly valuable part of this process. It is very bittersweet – knowing that I will have nothing to do with a business I spent 43 years at. However, I know I am leaving my clients, who are like my family, in good hands thanks to the vetting and due diligence process you worked through with us."
Sherry Doepker and Bill Sommers
Sommers Insurance Agency, Toledo, OH
"As a small agency owner, it was difficult for me to get someone to give me advice and guidance on my agency sale. I was ready to retire and wanted my clients to be taken care of. Thanks to Jeff and the Agency Link process, they were able to get me three offers for my agency, guide me through the process of selling, and help me transition into retirement with no regrets."
Jess Girard
Girard Insurance Agency, Worthington, OH
"Thank you for advising me through this process. It took time and patience to get from start to finish and I am confident that our outcome was much better with your engagement."
Annetta Chappell
AC Agency, Bellefontaine, OH
"Agency Link helped guide us through the process of selling our agency. Jeff and his team provided us with the trust, confidence, and structure to get an ownership transition done in a way that met our needs. They were with us every step of the way and we are so grateful to have them involved. I highly recommend that every agency owner contemplating selling their agency should engage with the Agency Link Team."
Barb Harrod
Harrod Insurance Services, Wapakoneta, OH
Contact your team of trusted agency valuation advisors and let's start planning for your agency's future.
Contact our valuation team to learn more and get started today. Send us an email.
Office
IA Valuations
175 S. Third St., Ste. 940
Columbus, OH 43215
Hours
Mon-Fri: 8am – 5pm
Via Email
contact@iavaluations.com
Via Phone
Tel: 800-555-1742
Ready to take your next step?